Notarized affidavits of service delivered to your door!
Notary services available!
We can take the notary to your client with our mobile notary services. We are available 24 hours a day , 365 days a year!
3 Attempts Made Over 3-5 Business Days
256-bit end-to-end encryption of documents
We only use local servers located in Marion for the safety and security of our clients
We offer process serving services to all types of clients including lawyers, government entities, pro se's, corporations and insurance companies.

Process Server is our core business and how we got started, but we also offer many other legal services including. Skip Trace and Locate Service, Background Check Service as well as Court Document & Filing Services.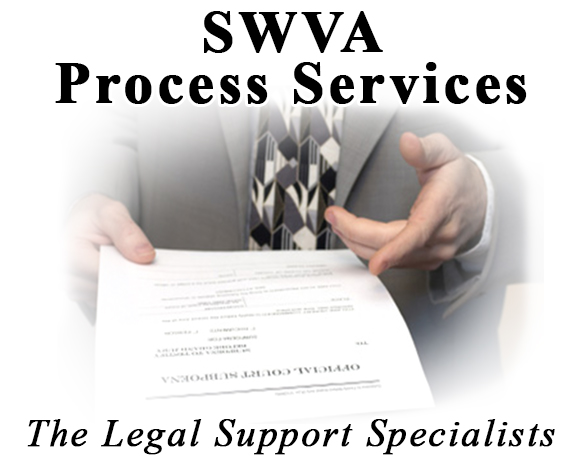 Whatever the cause-of-action: personal injury, divorce, child support, insurance, employment law, breach of contract, or copyright infringement , SWVA Process Servers has the process server in the SW Virignia location you need to serve that summons or subpoena or file that document. Whether you're an attorney or pro se litigant, we appreciate the urgency, and strive to deliver personal service of process promptly. We understand the difference between a subpoena and a summons and a deposition, and are sensitive to accommodating the needs of your particular jurisdiction. We ask good questions up front to minimize your due process headaches later.

We invite you to call us today at (276) 243-1991 to handle your process server and document filing needs in Marion, Abingdon, Wytheville, Richlands, Cedar Bluff and all points in between. Our Virginia presence is growing, and currently includes Washington County, Smyth County, Wythe County, Russel County, Tazewell County and more. We now offer services in Eastern Tennessee, North-Carolina and Southern West-Virginia! Let us you help you with the hassle! You'll be glad you did. Contact us Today!
Our standards are very high, and we maintain a calm, friendly approach to servees. We have learned through many years of experience what works well and what doesn't when serving papers to someone. Our promise to you, the client, is to serve your papers quickly and properly. Rush service and assignments with special conditions are also available.

We want to provide process service that is honest, reliable, and punctual. We charge a flat fee per servee and we not only want to gain your business, but we also want to establish a professional working relationship with you. We hope that you will call SWVA Process Server when you need a process server in In South West Virginia and beyond!